You have all heard the phrase, 'you get the priests you deserve.'  How true that is. We have been lukewarm, apostazied from right faith & morals, abandoned all decorum & goodness.  As the Church goes, so does the world.  When will we realize that we must turn back to the Father?  We all in like manner must clean up our own corruption, not just in the organization but in our souls so that we can begin anew in a purifying & purified church.
God let us fall into the hands of this depraved & evil mafia.  I was reminded of this passage some times ago, which very much reflects the current crisis in the Church:
"The LORD hath mingled a perverse spirit in the midst thereof: and they have caused Egypt to err in every work thereof, as a drunken man staggereth in his vomit."  ~Isaiah 19:14
When will we destroy our golden calves?
The Lord strikes his mighty hand, in warning, by collapsing the roof of St. Peter in chains, the titular church of a key player in the homosexual mafia – Cardinal Coccopalmerio, whose secretary was arrested in a homosexual orgy bust last year. Time to wake up.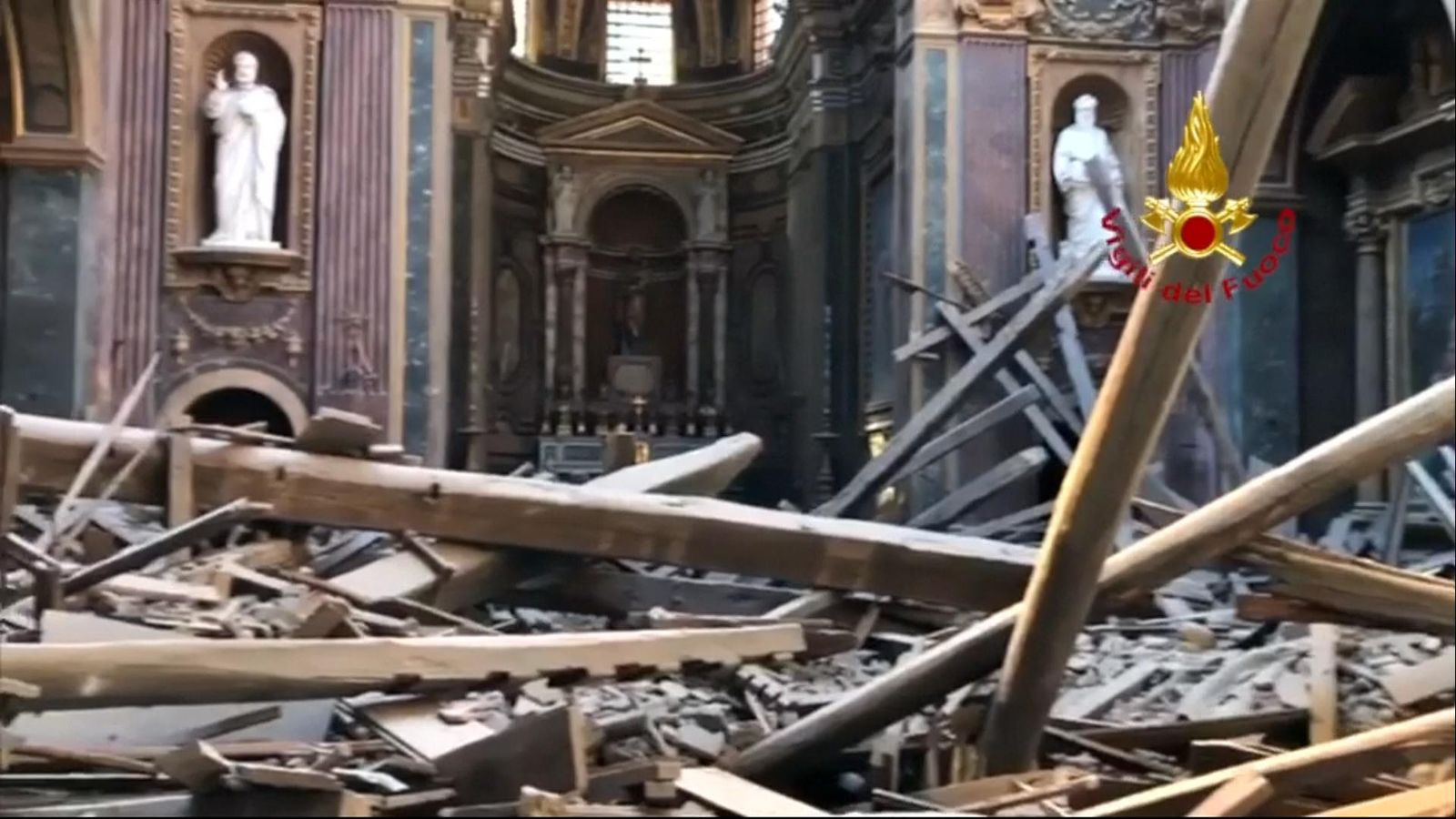 If we fall silent, even the stones will cry out.
There's no better testament to the current widespread evil amongst the clerics of the Church than this reflection from St. John Eudes:
"THE MOST EVIDENT MARK of God's anger and the most terrible castigation He can inflict upon the world are manifested when He permits His people to fall into the hands of clerics' who are priests more in name than in deed, priests who practice the cruelty of ravening wolves rather than the charity and affection of devoted shepherds.

Instead of nourishing those committed to their care, they rend and devour them brutally. Instead of leading their people to God, they drag Christian souls into hell in their train. Instead of being the salt of the earth and the light of the world, they are its innocuous poison and its murky darkness."
Ending on a hopeful note, I always reflect on the fact that this Church is most surely divine, for if She weren't she would have been destroyed long ago.  In all times & places, there are saints & clerics who are true fathers & shepherds to their people.  May we become worthy of these very men which St. John Eudes speaks of in these words:
"On the other hand, the greatest effect of God's mercy, the most precious grace He bestows upon mankind, is to send worthy priests, men after His own heart, seeking only His glory and the salvation of souls. The greatest blessing that God bestows upon a church, the most signal manifestation of divine grace, is to have a saintly shepherd, be he bishop or priest. This is indeed the grace of graces and the most priceless of all gifts for it includes within itself every other blessing and grace. What is a priest after God's heart? He is an inestimable treasure containing an immensity of good things.

'He is an ever burning and shining light set in the candelabra of Mother Church, burning before God and shining before men: burning in his own love for God, shining by his charity for his fellow man; burning with the perfection of his inner life, shining by the perfection of his exterior deportment; burning in fervent prayer for his people, shining by his preaching of the word of God.

The priest is a sun cheering the world by his presence and bearing. He brings heavenly blessings into every heart. He dispels the ignorance and darkness of error and radiates on every side bright beams of celestial light. He extinguishes sin and gives life and grace to the multitudes. He imparts new life to the weak, inflames the lukewarm, fires more ardently those who are aglow with the sacred flame of divine love.

He is an angel purifying, illuminating and perfecting the souls that God has entrusted to him. He is a seraph sent by God to teach men the science of salvation which is concerned only with knowing and loving Almighty God and His Divine Son, Jesus Christ. The priest is an archangel and a prince of the heavenly militia, waging constant war against the devil who strives to drag countless souls into the depths of hell.

He is a captain in the mighty army of God, always ready to battle for the glory of God and the defense of Holy Mother Church. He is ever prepared to lay siege to the world, the flesh and the devil. For him the conquest of kingdoms means only the salvation of souls for each soul is a kingdom more precious than all the empires of the world."